Infographic

Windows 10 Pro: Boost Your Productivity and Help Secure Your Business
Windows 10® delivers a familiar user experience along with major advancements that address key demands of IT professionals. In this infographic learn how the built in productivity features of Microsoft® Windows 10 drive performance while remaining secure. Plus learn why migrating to Windows 10 is more vital than ever.
Accessibility note: The infographic is translated below the graphic.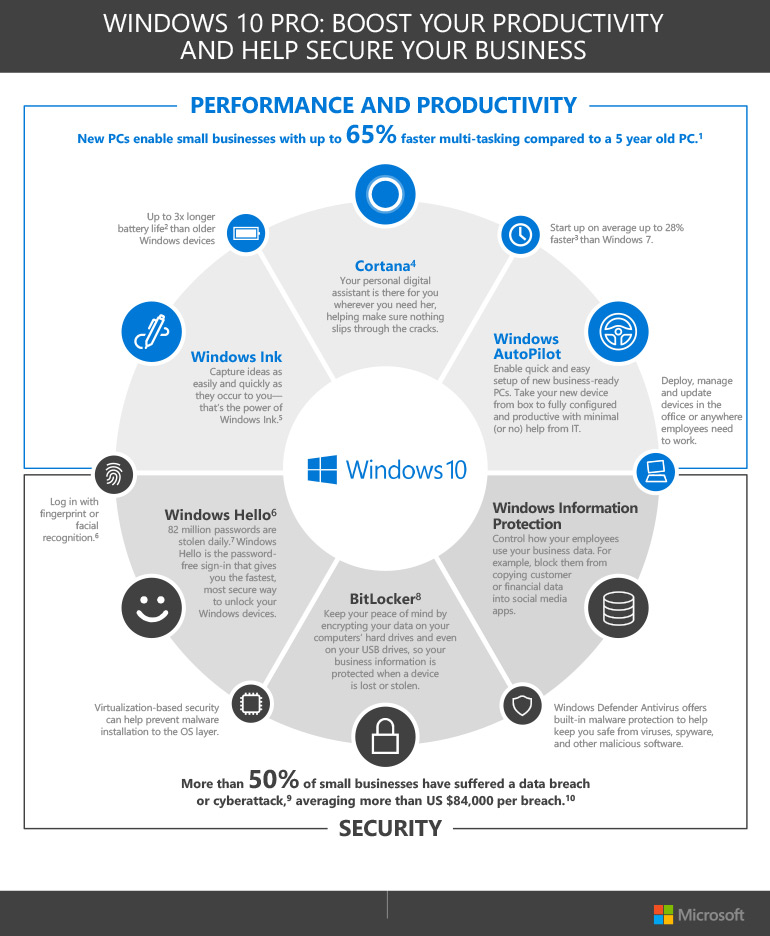 1 As measured by SEG562, which is an office productivity and multitasking workload using Microsoft Word* (save to PDF), Excel* (recalc), PowerPoint* (slide sort), and NXPowerLite Desktop* (to shrink contents with office documents, kind of like compression), all while playing video in the background (simulating the watching of a business training or webcast).

2 Performance of 6th Gen Intel® Core™ processors in Windows 10 devices, estimated based on Windows 8.1 Local HD Video Playback Power, Comparisons based on Intel® Core™ i5-6200U vs. Intel® Core™ i5-520UM

3 Testing conducted by Principled Technologies in July 2015 in a closed lab environment using OEM factory default images on a representative sample of Windows 7 devices. Each boot test was run 10 times and the averages compared. Average improvement in startup was 28%.

4 Cortana available in select markets; experience may vary by region and device.

5 Touch-capable tablet or PC required. Pen accessory may be sold separately.

6 Windows Hello with biometrics specialized hardware, a fingerprint reader, illuminated IR sensor, or other biometric sensor is required. Hardware-based protection of the Windows Hello credential/keys requires TPM 1.2 or greater. If no TPM exists or is configured, credentials/keys protection will be software-based.

7 Thycotic and Cybersecurity Ventures Report, "The World will Need to Protect 300 Billion Passwords by 2020," 2017

8 Requires TPM 1.2 or greater for TPM-based key protection.

9 Ponemon; 2016 State of Cybersecurity in SMB (USA); Canadian Chamber of Commerce, An Analysis of the Adoption of Internet-based Technology, February 2017

10 Small Biz Daily: 10 Small Business Trends 2018

Separate subscriptions may be required
The time to migrate is now
Let our Microsoft experts help you migrate strategically before time runs out.
Infographic text included for screen readers:
The infographic above details the enhanced features of Windows 10 Pro and why migrating now is becoming a business imperative. The infographic outlines the new enhancements to Windows 10's built in performance, productivity and security and reminds readers that more than 50% of small businesses have suffered a security breach that could cost businesses thousands. To learn more about why businesses need to migrate to Windows 10 and how Insight provides migration and support solutions, contact us today.